Includes Cleaning, Exam & X-rays
*For uninsured patients only
Our Services
We specialize in improving smiles with safe, gentle and friendly care.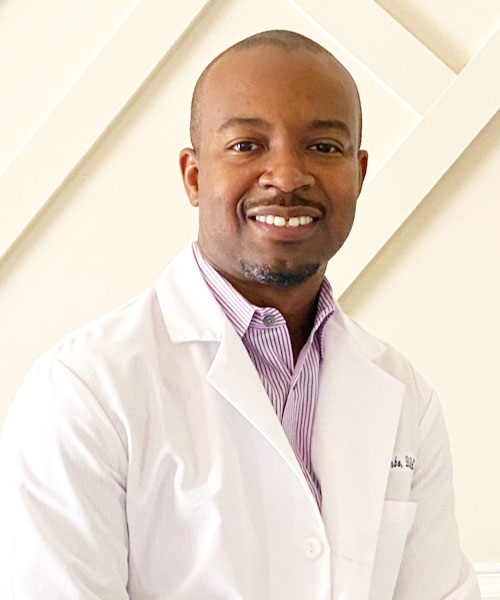 Meet Dr. G
Ajamu Giscombe, DDS
Dr. Ajamu Giscombe was born and raised in the Bronx, New York. He attended undergraduate school at North Carolina Central University in Durham.
After graduating Magna Cum Laude with a Bachelor's of Science degree in Biology, Dr. Giscombe attended dental school at Howard University College of Dentistry in Washington, D.C.  While at HUCD, Dr. Giscombe developed a true passion for dentistry.
Smile Gallery
A beautiful new you starts with a visit to our office.
Porcelain Veneers
Porcelain veneers can drastically change your smile. Go from a normal smile to an incredible, beautiful shiny, white smile.
Testimonials
We love all of our patients and they love us. Take a look at some our recent reviews.
Location
Blue Ridge Dental Care
New Patient Special
Exam, x-rays and cleaning* included.
*In the absence of periodontal disease
Access the Best Dental Care in Raleigh
A visit to the dentist should be comfortable, efficient and satisfying. If you don't walk out of our office smiling, we haven't done our job. We set the bar high for dental care. That's because we know what our experienced staff is capable of, and we want patients in the Raleigh area to enjoy going to the dentist. If you've never considered that you might look forward to a dental visit, think again. We have created a warm, friendly atmosphere so that you can feel comfortable taking care of your dental health.
Raleigh is a bustling city that's located between the mountains and the beach. There is plenty to do in the area, and we understand that you can choose from a wide variety of dentists. At Blue Ridge Dental Care, we are known for providing comprehensive care and a broad range of services.
Our patients In Raleigh love us because we're honest, welcoming and knowledgeable. We love our patients because they trust us to enhance their oral health.
Prevention Is Key
Our staff has the same goals as our patients. We aim to provide the most conservative treatment necessary to prevent dental problems. Teeth cleaning in Raleigh removes buildup on tooth surfaces, identifies decay and reduces your risk of gum disease. Plus, it makes your teeth sparkle.
Most patients should get regular examinations and cleanings about twice a year. Our highly trained hygienists use advanced technology to clean your teeth thoroughly while keeping you comfortable.
During a routine visit, we will also assess your oral health, screen for oral cancer and gingivitis and check for cavities. In doing so, we can stop many dental issues before they become major problems.
Dental Treatments
Unfortunately, age, injury, lifestyle and medical conditions can affect your teeth. If you need more than a routine cleaning, Blue Ridge Dental Care in Raleigh is here for you.
We can enhance your smile and treat problems with the following services:
Fillings
Crowns
Bridges
Veneers
Cosmetic Dentistry
Some of our services restore function to your teeth. Others, such as our teeth whitening treatments, are largely cosmetic. However, improving the aesthetics of your teeth gives you confidence and allows you to smile, talk and chew naturally.
Many cosmetic dentistry treatments overlap with restorative dentistry options. For example, veneers and bonding can repair unsightly and uncomfortable damage that impairs your bite. Inlays and onlays are used to fill significant cavities, allowing you to keep your tooth and ensuring that it matches the rest of your mouth.
A smile makeover provides a combination of services that are tailored to your specific needs. We may ask you plenty of questions during your initial consultation because we want you to achieve the results that are perfect for you.
Choosing the Best Dental Services in Raleigh
At Blue Ridge Dental Care, we offer a one-stop location for the dental services that you need. Some of the other treatments that we provide include:
Dental Implant restoration
Bridges
Removable dentures
Tooth extractions
Orthodontic treatment and Invisalign
Porcelain veneers
Root canal treatment
Sealants
TMD treatment
Don't wait until you have pain or problems to visit the dentist. When you establish a relationship with Blue Ridge Dental Care, we can keep an eye on your oral health and minimize the amount of time that you spend at the dentist.
Plus, preventing dental problems is more affordable than treating them. If you do need an exam or treatment, however, we offer specials and free second opinions.
Contact us to ask questions, make an appointment and meet our friendly staff today.
Contact Us
We're open Monday through Thursday & select Fridays.
Do you need a cleaning? Are you in the Raleigh area?
Blue Ridge Dental Care offers a complete, New Patient Special for only $199.
This special is available now and includes the cleaning, exam and X-rays.